---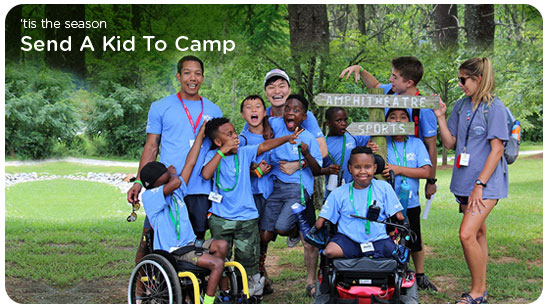 For many families, summer camp is a rite of passage. It's a time for kids to develop their independence, try new things and make lasting friendships. For children with unique medical and physical needs, summer camp is all of this and more. That's why, each year, Children's Healthcare of Atlanta collaborates with regional organizations to offer 11 different specialized camps for children and their families. Surrounded by others who are just like them, kids can focus less on their medical condition and more on broadening their horizons, building a sense of community, learning new skills and doing things they never thought possible.
Watch this video to find out why you should consider sending a kid to camp.
---

July 26-27
News 95.5 & AM750 WSB Care-a-Thon
Tune in and listen to stories of hope and inspiration from patient families and staff to help fundraise for the Aflac Cancer and Blood Disorders Center of Children's Healthcare of Atlanta.
Aug. 9
Jeff Francoeur Home Run Derby
Join us for the inaugural Home Run Derby at SunTrust Park to benefit the Aflac Cancer Center. Francoeur, along with other former Atlanta Braves players, will hang out and even serve up a few pitches.
Aug. 25-Dec. 1
Chick-fil-A Peach Bowl Touchdowns for Children's (T4C)
Cheer on your favorite college football team while supporting our community's kids. Pledge as little as $1 for every touchdown your college football team scores this season. Every donation will be matched by the Chick-fil-A Peach Bowl.
Sept. 15
Arnie's March
Arnie's March is a fundraising walk benefiting the Aflac Cancer Center. Join the movement by creating or joining a fundraising team, making a donation and registering to march.
Sept. 28
Marathon by Midnight at SunTrust Park
Attention all runners! The first-ever Marathon by Midnight will include 113 laps around SunTrust Park baseball field for a total of 26.2 miles. This exclusive event is limited to the top 50 fundraisers. The final lap takes runners around the bases and across home plate. All proceeds benefit Children's.
Oct. 20
Tower of Talent
The 5th annual Tower of Talent fundraising event will feature performances by some of Atlanta's most talented kids ages 6 to 21. A benefit by children for Children's, the concert theme is 'kids helping kids'.
Check out the full calendar of community events that benefit the kids at Children's.